All Articles
ITSM Service Desk System Audit for Enterprise Client or how to save 100K of the yearly budget?
Posted 2021-05-05 02:05
8 minutes to read
The case is about Rozdoum – Atlassian Gold Solution partner, whose proposal for setting up support and help desk systems will later save the client more than $100K yearly.
B

ackground 
The help desk was based on Atlassian Jira Service Management (former Jira Service Desk) platform with close dependency of other Atlassian products, such as Confluence and Jira Service Desk, and required close collaboration of IT and Development teams. 
This is a vivid example of how the right ITSM solution can help the enterprise re-allocate their budget.
What Rozdoum consultants prepared for the client:
A general recommended approach for setting up Jira Service Desk in combination with Jira Software and Confluence;

A detailed implementation plan with clear step-by-step process of eliminating uncertainty and unknowns; 

Projected milestones and deliverables with ideal delivery terms within 23 working days;

Projected budgets for implementation as well as Support and maintenance costs. 
Requirement analysis & Scoping
Setup of Information Technology Service Management system that addresses Internal facing Service Desk  and Customer facing Global Operations Center.
Projected Environment:
40 Support agents;

5000 IT assets (software, desktops, laptops etc.);

10000 incidents and requests annually + 500 change requests.
Jira Service Management description
In brief – Jira Service Management can allow the client to: 

address different customer segments (internal, external, etc.) with different

Portals

, where each 

may have different

Request Types,

with dedicated 

easily configurable

SLA

times, and specific

parameters

,

screens

and permissions

Adjustable and prioritized

Queues

  

Streamline self-resolution for customer by

Knowledge Based articles

based on Confluence

In

coordination

with Development team in Jira Software 

Automate

routine operations on backend and front-facing processes

Maintain and operate Assets with CMDB solution.





For Customer, it will provide:
A search-centric approach for addressing problems;

A targeted set of possible request types to raise;

Knowledge base articles addressing the search criteria.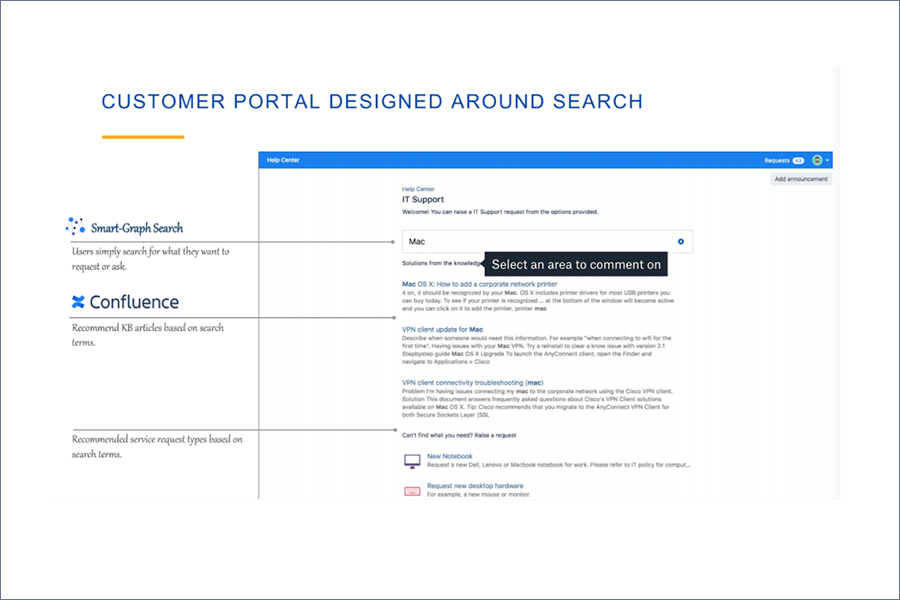 For Agent as a part of Support team, it will allow:
A prioritized queue of items to address;

Easy access to KB articles;

Collaboration with the development team inside Jira Software; 

Clear prioritization and addressing SLAs;

Access to Asset/CMDB.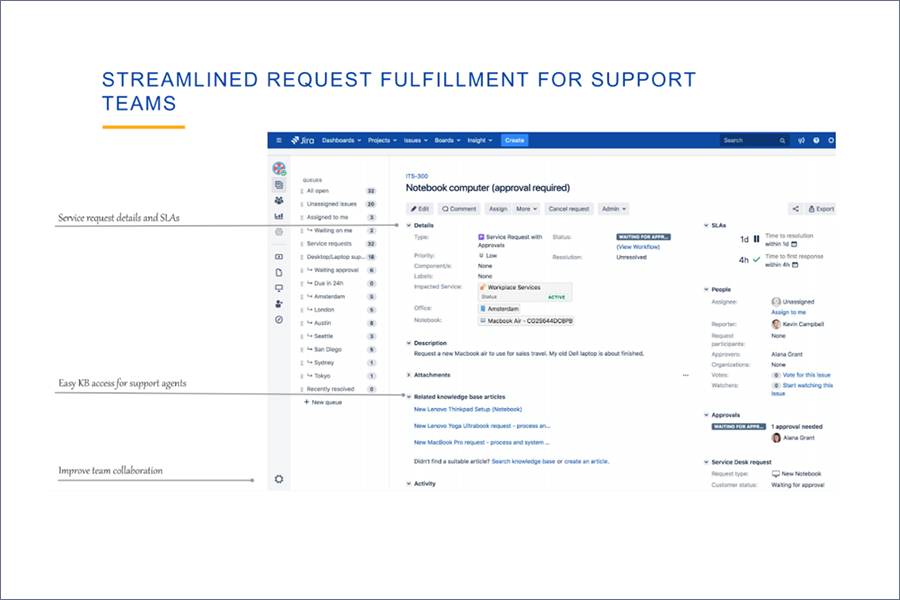 Implementation plan
a. Architecture outline
The suggested landscape of the system implies tight integration of available Atlassian products: Jira Service Management (Desk), Confluence and Jira Software. Potentially and in the future, we might consider adding StatusPage as a communication channel with customers during incident resolution time.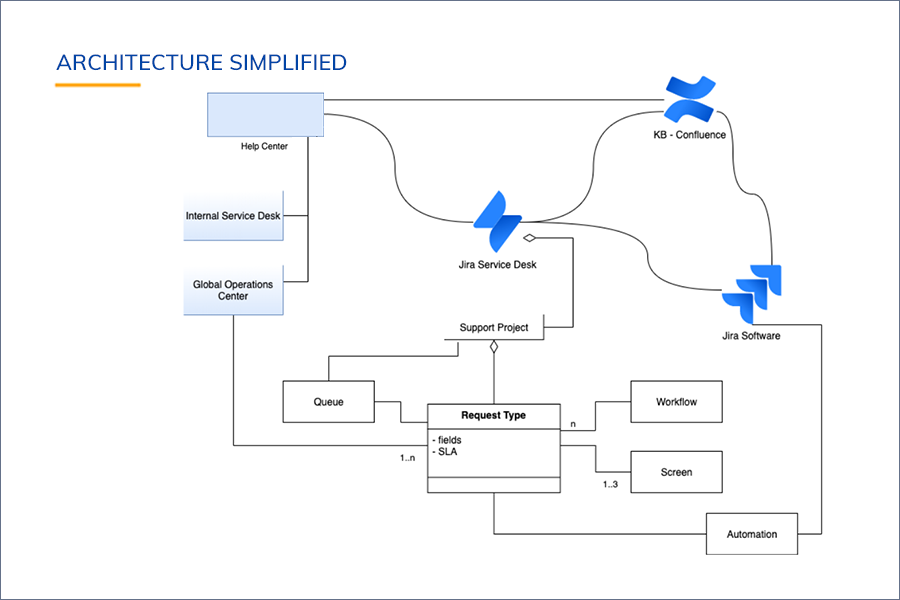 The core customer-facing part of the system becomes the Company Help Center that will be split into portals. At the moment envisioned  two types of portals:
Internal Service Desk (ISD)

Customer Operations Center (COS)
Each portal will have: 
A dedicated address that can be presented and given to end customers; 

A predefined set of request types available to be raised;

A link to a certain area within the Knowledge Base system.
On the backend of each portal, we will create a dedicated Support project with certain issue types that can be used to address different Request Types. 
Each request type will have a certain, configurable number of relevant fields. Types of fields as well as possible sets of values are to be defined during the assessment phase. Request Types might have associated screens for following operations: create, view, edit. Screens can be shared by several request types or be specific for a certain request type. 
Each request type will be associated with a set of business-driven SLA restrictions.
Issues raised by a customer will be organized in queues to be easily addressed by the support team. 
Issues raised by creating a request type during the lifecycle will have to undergo a set of transitions. This set of transitions as well as associated statuses is referred to as a workflow. A workflow can be shared between several issues or be a specific one. A workflow might have restrictions for transitions, by that ensuring certain criteria are met before or after the transition. Triggering a transition from one status of a workflow to another might raise a set of actions, which is referred to as automation. Automations should address the nature of the business process and can affect different systems in the outlined landscape – Jira Service Management (Service Desk), Confluence, Jira Software. Automations should be defined during the assessment phase for each request. 
b. Phases definition
Planned activities:
Identifying all possible request types for ISD portal.

Identifying all possible request types for COC portal.

Identifying user groups and corresponding access to information as a basis for permission schemes: 
Who needs to see reports;

Who needs to work as an agent;

What the customer should see;

Who defines workflows and processes.

Defining stakeholders on different sides:




Customer. Who represent customer; 

Agents for Internal Service Desk and COC;

Management;

UAT group.


Defining metrics and KPI for reports.

General configuration questions:

Defining necessary queues; 

Defining possible issue priorities;

Selecting IssueTypes and mapping to RequestTypes;

Access and structure of KB;

Possible ways of raising requests.
Deliverable : report listing above mentioned items
Tune your Atlassian tools to collaborate effectively. Get advice from Atlassian certified experts and simplify your internal Jira workflow. Arrange a call for the initial Atlassian tools assessment stage.

ii. Processes description
For each request type identified in the phase "Initial assessment", we need to define:
A list of relevant fields (their types and possible values);

Process workflows with all statuses, transitions between statuses. For each transition, we need to set:

Triggers – if transition should be executed based on some event happening in the system; 

Conditions – definition of who has the permission to execute a given transition;

Validators – restriction that must be in place in order for a transition to become possible;

Actions that need to happen after a transition takes place. Possible automations.
Automations

What actions needs to be automated, if any?

Stakeholders

Customers: 

What is a customer allowed to do?

What information can he see?

Which transitions should he be able to initiate?

Agent

Who fit into the agent role for this request?

What restrictions ( if any) exist?

What are the SLAs for a given type of request?

What should happen if a certain SLA is breached?

Management

Who fits into this role?

What permissions should be given?

What type of reports are they interested in?

KB articles

Defining relevant spaces and articles

Defining relevant keywords
Deliverable: Process description for each Request type
iii. Implementation & Configuration
Setup of Portals

Project configuration

Mapping Request Types to Issues

Defining workflows

Request types & Screen configurations

Setup of Queues 

Permission scheme configuration

Setup of SLAs and mapping to request types

Reports 
Deliverable: Configured JSD instance
iv. Asset configuration – preliminary investigation and setup
v. UAT
Documentation & Trainings

a. Customer documentation 
    i.Basic documentation. Jira Service Management how-to
    ii. 

Request type specific


b. TechSupport team
    i. Basic documentation. Jira Service Management how-to
c. Help Desk team


d. System administrator documentation
vi. Launch
The launch phase doesn't need to be "all at once". It may start with a one-step-at-a-time approach. In this way a pilot group of users may start testing the JSM system once a certain request type is configured. This way we can address requests for certain changes early in the process and make appropriate adjustments. 
vii. Maintenance & Post-launch support
Maintenance and support is highly recommended. Experience shows that the best way of organizing a process is preallocating a certain amount of hours monthly. For a challenge of the given complexity with 50 agents, the following amount of support hours is recommended: 

| | |
| --- | --- |
| Period | Hours, monthly |
| Month 1 after launch | 40 |
| Month 2-3 after launch | 25 |
| Month 4+ after launch | 15 |



c. Estimate and Timeline
There were a number of assumptions made that directly affected the estimation process.
Assumptions: 
| | | |
| --- | --- | --- |
| Parameter | Value | Comment |
| Portals | 2 | – number of public portals and corresponding projects. For each project separate configuration is required |
| Queues | 10 | Total number of queues for all projects |
| Request types / project | 10 | number of custom Request types for project |
| IssueTypes / project | 5 | number of Issue Types that Request types are mapped to |
| Issue type simple/complex | 60% | ratio of existing/standard IssueType configuration compared to specially created |
| Automations / project | 10 | number of automations envisioned per project |
| SLA / project | 10 | number of SLA envisioned per project |
| Reports / project | 5 | number of reports configured per project |
| Fields for Request Type | 4 | average number of fields for request type |
| Workflow statuses | 5 | in case of custom workflow necessary – number of statuses |
| Workflow transitions | 10 | in case of custom workflow necessary – number of transitions |
Estimation is provided based on a phase, assuming there is minimum and maximum estimated effort for each type of activity. If an activity includes a sequence of the same operations, such as fields for Request type, min and max effort for an operation is multiplied by the number of operations.
Phase

Comment

effort days, min

Effort, days,  max

#

Total Effort,

days, min

Total Effort,

days max

 
 
 
 
 
 
 

Initial assessment

 

2

3

1

2

3

Processes description

 

0.125

0.5

20

2.5

10

Implementation & Configuration

Help Center setup

 
 
 

16

30.75

UAT

– adjustments & feedback processing

 
 

15%

2

5

Documentation

 
 
 
 

6.25

9.5

 
 
 
 

Total

29

58
Detailed estimation is presented in Annex 1.
The range estimate for implementation is from 29 to 58 days.
Timeline: is based on simultaneous phase implementation in case it is reasonable.
All in all, a project can be completed within a range of 23 to 38 working days.
| | | |
| --- | --- | --- |
|   | Start day, from kick-off | End day, from kick-off |
| Initial assessment | 0 | 3 |
| Processes description | 3 | 5 |
| Implementation & Configuration | 5 | 21 |
| UAT |   |   |
| UAT – adjustments | 18 | 22 |
| Documentation | 9 | 23 |
| Asset management basics | 16 | 20 |


Improve your Environment with Atlassian Experts.
We help you optimize your infrastructure and adjust processes with Jira and the Atlassian tools.


Fill in your parameters and get a detailed calculation:



Stay on Top of the Latest IT Software Development Tips, Newest Offshore Trends, and Best Outsourcing Practices.