All Articles
Top 5 product management tools within Atlassian
Posted 2020-05-27 04:05
7 minutes to read
Who is a product manager (PM)? We're sure that each of you has come across a person holding this position at least once. But do you understand their part and duties clearly?
Our article is about tools designed to facilitate, automate, and maintain the tasks of a product manager at various stages. But before we proceed to the review of these tools, let's focus on the scope of PM's responsibilities.

PM's role and duties
Obviously, the job title itself suggests that the position of a product manager is multifaceted. PM takes responsibility for leading the project to success. Therefore, they are usually involved in designing a product development agenda. In order to reach the desired goal at each development phase, product managers must tightly cooperate with various teams. Moreover, they are empowered to make business decisions (including financial ones) at any stage of product evolution.
Regardless of project specifics, PM should follow market trends and be aware of customer demands. Although the company may have specialized marketing departments, product managers are also in charge of generating new marketing ideas and analyzing the competitor's PR strategies.
Thus, this is a leader who guides people within the company and ensures that all processes are in line with the product's vision.

Five tools to automate product manager's workflow
Luckily, there's a number of Atlassian tools designed to optimize and automate the manager's workflow. The tools that we have listed below are prominent leaders in the niche. You might have heard about some or even used them. These are time-tested products that are of good use to product managers. And now, we are about to explain why. 
Jira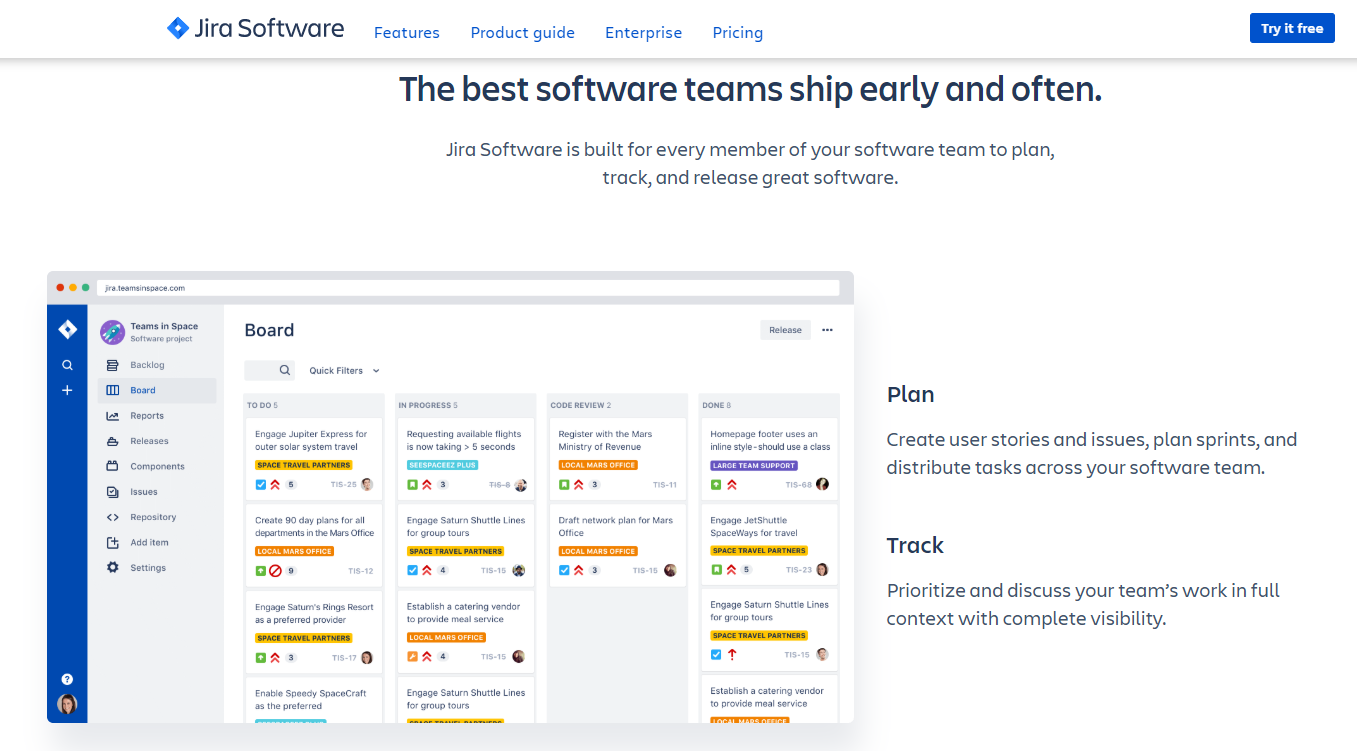 Jira is all about planning, assigning and issue tracking. Millions use it daily, but here's a shortlist of Jira's benefits if you still have doubts:
User Experience

. "Grab and drag." Managing tasks in Jira is as easy as it gets. Anyone can move the task to another stage of the working process in two clicks.

Transparency

. Forget about confusion and eternal questions in private messages about whose task it is and when this task ceased to be yours. Each issue is clearly assigned to a particular employee, and every team member can see what other people do. 

Commenting

. Of course, no task tracker can do without the comment feature. In Jira, it is implemented in a very straightforward way. So, you wouldn't be lost in the long Reddit-style correspondence.

Cost management

. It allows PMs to predict whether it is possible to finish the task by a due date and thereby calculate the budget.

Workflow customization

. Thanks to this, Jira can be used for issue tracking in any industry, not necessarily in IT. Customize your workflows as you wish.
And there's more to it: task categorization and expanding its functionality with other services, e.g WatchTower, which enables you to combine issues from several Jiras with one tool. The application also allows you to drag information from Trello projects into the same agile board in Jira. 


Trello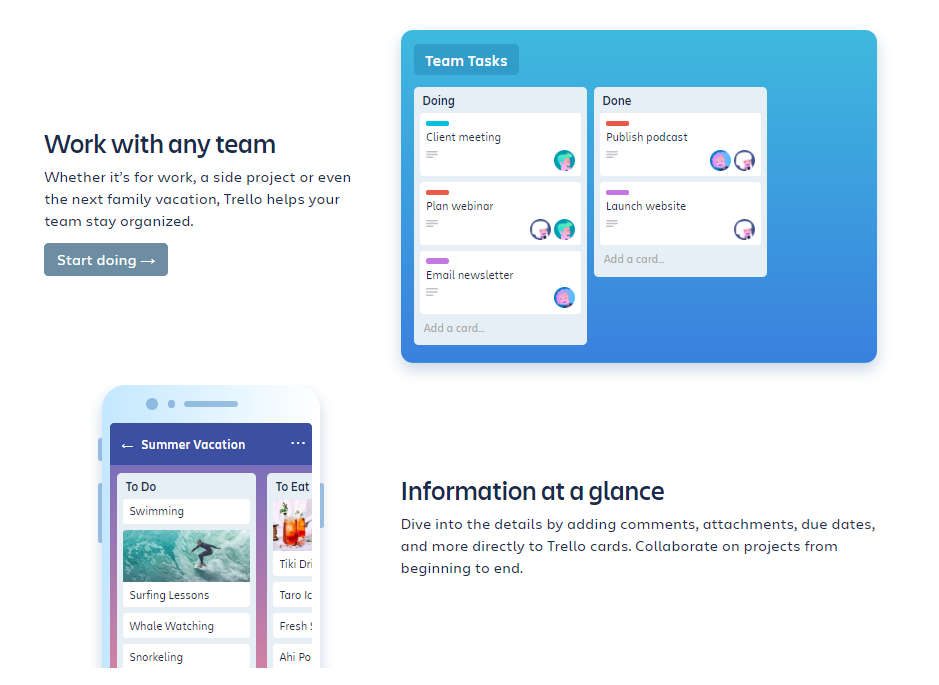 Trello helps you see the whole scope of product development stages. If you are seeking ways to reduce the time spent on personal meetings, correspondence by e-mail, and so on, Trello is what you need. While Jira is more about detailed issue tracking and the distribution of tasks, Trello is about tracking your project's progress as a whole. 
There is no need to specify minor updates in Trello. If you have a large crew, each individual member will be able to quickly understand who is responsible for certain areas in the development process. The comments section is created to report major updates for the entire team.
And yes. It's free. A wonderful solution for SMEs.


Tempo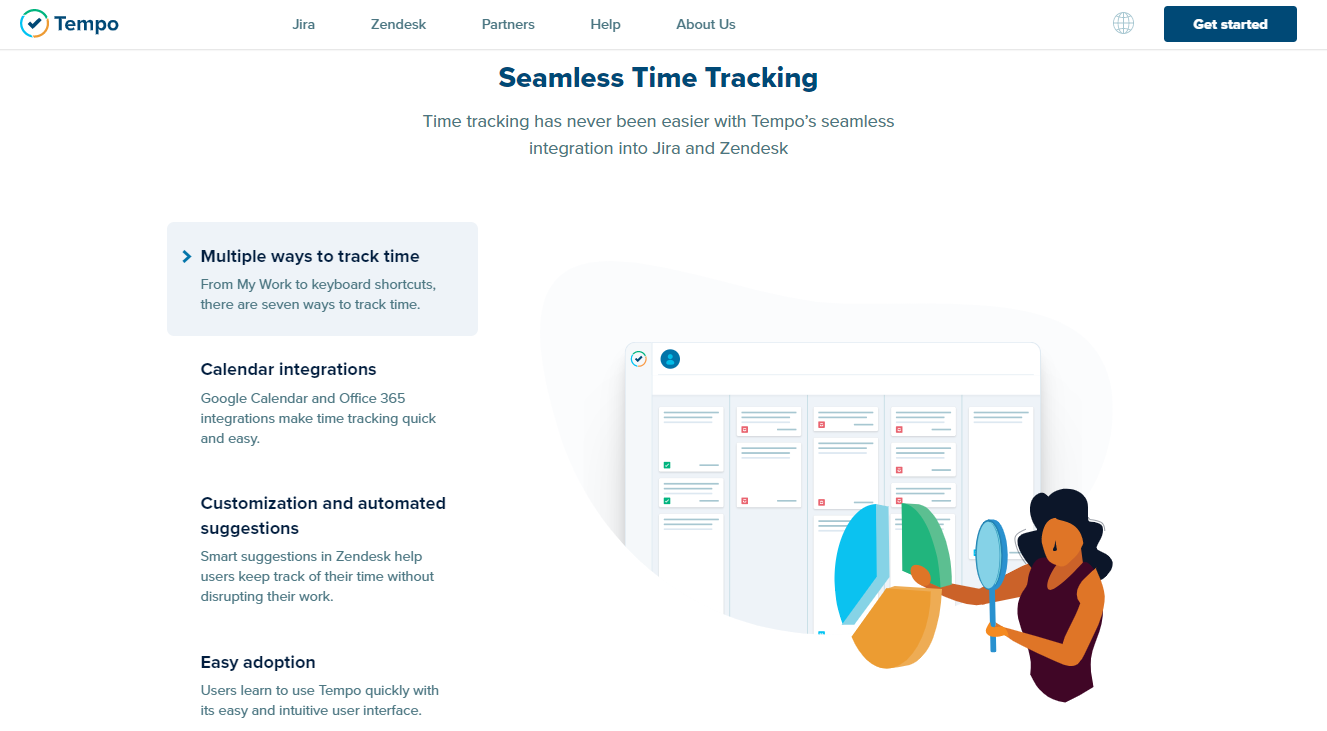 Tempo is renowned as one of the best time-tracking solutions, which is easily integrated within Jira. The wide range of functions of the Tempo Timesheets app for Jira allows you to seamlessly and transparently add hours to any issues. In more detail:
Simplified time reporting

. The process of work time logging is simplified. For the users' comfort, there is a calendar, where you can drag Jira issues in two clicks to log time spent and to plan your schedule.

Agile reporting

. The Reports tab allows you to enter and evaluate time by teams, projects, problems and custom filters from Jira. All reports can be downloaded in PDF, XLS or CSV formats.

Billing and Pre-invoicing.

Tempo's Accounts tab provides useful details of the employees' logged time on Jira issues. This tab is used by Tempo Account Administrators to log his team's both worked and billable hours.  After that, the Administrator can create a custom invoice for a client based specifically on his team's billable hours. This invoice can be saved as an excel spreadsheet and sent to the client.
Confluence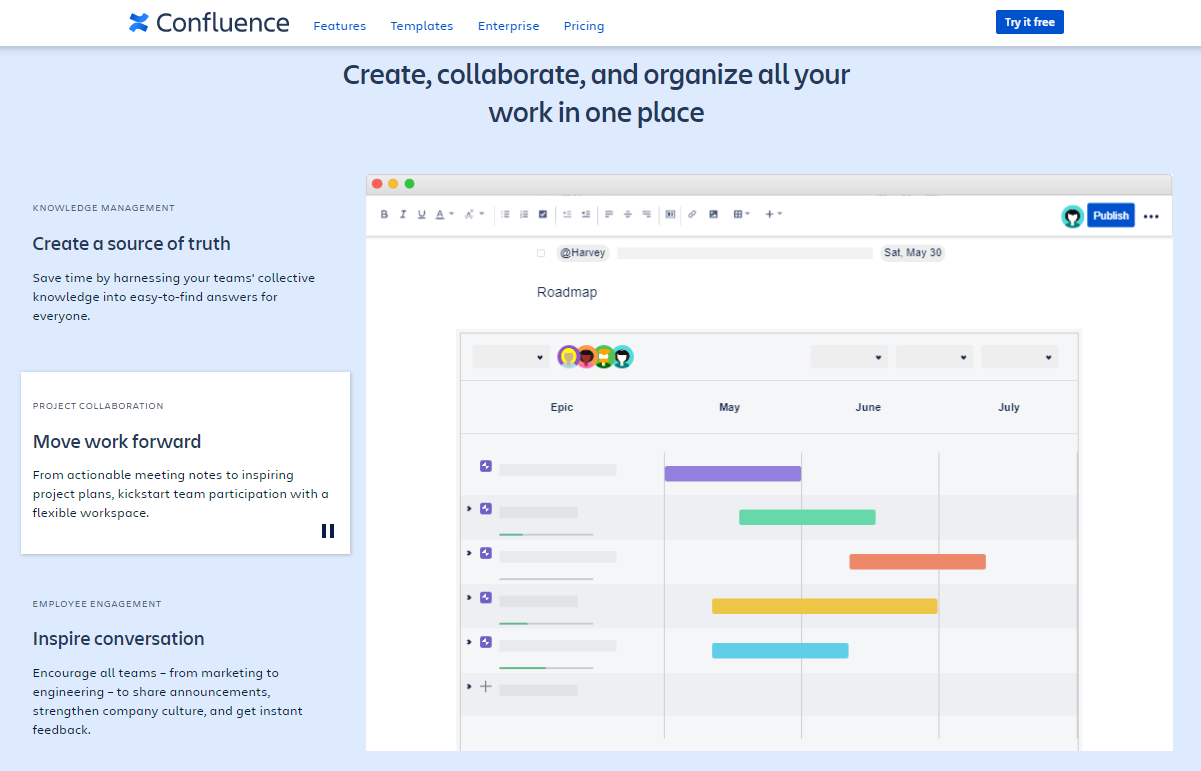 Teamwork can be a real mess. Good ideas get lost in the continuous flow of negotiations, letters, and meetings. Any product manager will tell you how time-consuming it is to clarify information and communicate it to all team members. This is especially true for teams located in different time zones and working remotely. Here Confluence can help.
Confluence is the best tool for keeping teams on the same wiki page of your project. Available from all devices, Confluence will send up-to-date notifications to all team members if there are some changes in the project's knowledge base.
It allows you to create a shared pool of data related to the product's development process. In addition, Confluence saves all details in the archive. So, a new team member can easily and quickly refer to it, find how the project has evolved, and what kind of work has been done before. This greatly speeds up the process of onboarding for this new team member.
Just like Jira, Confluence is another base tool that allows wide customization possibilities thanks to a number of apps on Atlassian Marketplace to expand its functionalities.

Requirements Clarity Map (RCM)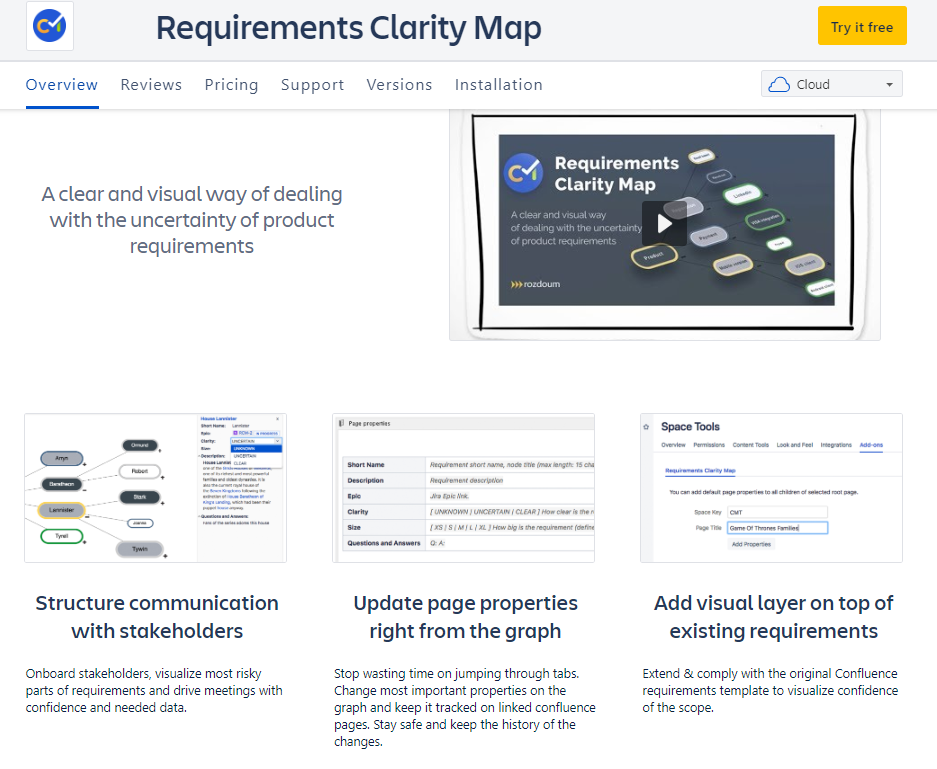 As part of the Atlassian Marketplace family, RCM is all about defining the requirements of the project. This app for Confluence allows you to visualize them as a tree-like graph. This is a kind of diagram that highlights the structure and size of the project as well as helps minimize the risks. 
The app creates a simple and clear visual diagram out of all requirements that allows all stakeholders to see the big picture. Namely, RCM ensures the clarity of requirements, their structure, and status (based on the category status of the linked Jira issue). Simply put, stakeholders understand the scope of project requirements without unnecessary rallies and approvals.
Another useful feature is tracking changes during the progress of a project. Having navigated to the necessary tab, you can quickly and clearly see all the changes, without sifting through the various departments' data and archives. This tool helps speed up communication between all parties engaged in product development progress.
In short, Requirements Clarity Map is a visual representation of the product's strategy.
Conclusion: all you need is tools?
You certainly can't succeed with tools alone. If this was the only thing needed, then everyone out there could be a successful product manager. 
Accurate product management is the key to success. Well-planned and organized work, clear goals and development stages form the basis. This process should be carried out by a team or teams of specialists united by a common goal. And all this is monitored by the product manager. They make sure that everyone does their best at work and that everything is done on time. Now, this is more like a formula for success, right?
Thus, tools are the necessary assistants that take on routine organizational issues and report on them. They alone won't help you become a good product manager. But without them, it will be impossible.
Stay on Top of the Latest IT Software Development Tips, Newest Offshore Trends, and Best Outsourcing Practices.