All Articles
Managing Projects in Multiple Jiras: Best Tools and Practices
Posted 2023-02-14 12:02
8 minutes to read
Atlassian team

Jira is one of the most popular project management solutions, which is specially designed for Agile software teams. Here is how you can manage projects in multiple Jiras effectively.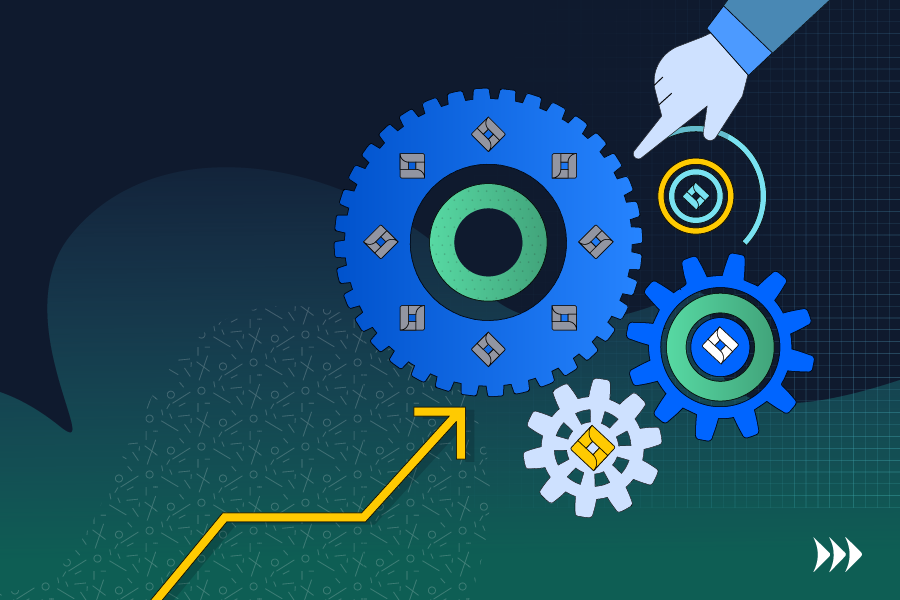 Jira is a powerful tool that allows you to manage your projects and track their progress efficiently. But the management process across multiple Jiras can be challenging, especially when you have multiple teams in a distributed environment.
Sometimes, different teams, working on a single (or multiple) project(s), need to use separate Jira instances. In such a scenario, it becomes difficult for project managers to track real-time updates and retrieve data from different Jira instances quickly.
Luckily, there are apps and approaches that allow you to streamline the process of managing projects in multiple Jiras.
Pitfalls to Avoid While Working with Multiple Jiras
If you want to manage multiple projects using just one tool, you can use Jira. It allows you to create custom workflows, assign tasks to team members, track progress, and manage dependencies.
However, managing projects across multiple Jira instances can present several challenges that can impact the success of your project development.

Keeping Track of Important Issues
When you are working with multiple Jiras, it can be difficult to keep track of all the issues and tasks that need to be completed. This can make it harder to manage your workflow and ensure that all the important items are being addressed.
Prioritizing Critical Items
Forgetting to prioritize critical items can happen when managing multiple Jira instances, causing delays in the project and potentially leading to missed deadlines. 
It can also lead to inefficient use of resources, as team members may spend time working on less important tasks instead of focusing on the critical ones.
Maintaining Focus
It can be hard to stay focused and keep track of all the different contexts you need to switch between when you are managing multiple projects and Jira instances simultaneously. To mitigate this challenge, it is essential to gather your projects in one place.


Best Tools And Practices to Manage Projects in Multiple Jiras
If you need to work with multiple Jiras or are planning to use this approach for managing projects, you can use the following tools to streamline the management process.
WatchTower by Rozdoum for Consolidation
WatchTower by Rozdoum is a consolidation app that allows you to effectively manage and oversee multiple Jiras from a single point of control. The main purpose of this app is to gather all tasks and issues from different Jira instances into one centralized location.
With WatchTower, you can link multiple Cloud, Server, or DC Jira sources into a single Kanban board. This allows you to work in one Jira instance while simultaneously updating tasks and matching statuses from other external instances. The app also allows you to organize pulled data based on cross-instance JQL (Jira Query Language).
To ensure a user-friendly experience, WatchTower offers a standard UX of agile boards like swimlanes, columns, and drag-n-drop capabilities. You can also share your boards with your team members through a permission scheme for edit and view mode.
Overall the WatchTower app by Rozdoum makes for a cost-effective solution as you only need a single license for one Jira instance, and it can be easily set up in less than five minutes.
Features
Consolidates tasks from multiple Jira instances;

Connects multiple Jira sources into one board;

Allows for simultaneous updates across Jira instances;

Offers options for data fine-tuning;

Editable fields for Trello card view;

Shareable with permission scheme;

Cross-references issues across Jiras;

Aggregated time reports;

Single license required;

Jira Align to Monitor Progress
Jira Align allows you to integrate multiple Jiras, providing a holistic view of progress and dependencies across all projects, regardless of how many instances you have.
It supports Agile, Waterfall, and Hybrid methodologies and offers real-time visibility and reporting capabilities. In addition, it also enables cross-functional collaboration and provides a centralized location for roadmaps, backlogs, and releases.
In order to integrate multiple Jiras, the Align instance needs to have multiple Jira Connectors. Each connector is responsible for pointing to a different Jira instance. This means that the Align instance can pull data from multiple Jiras and display it in one unified location, as shown below.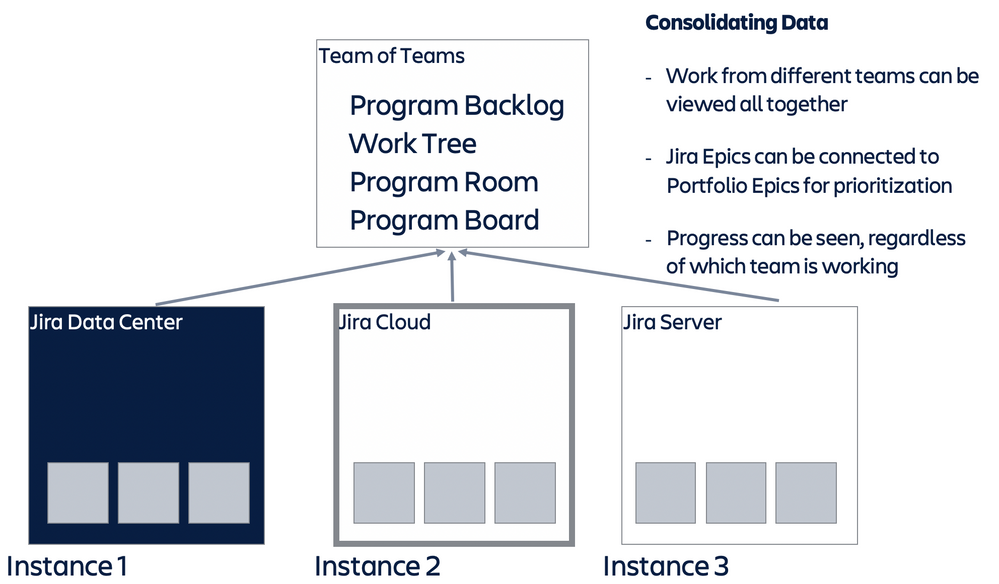 Features
Holistic view of progress and dependencies across all projects;

Supports Agile, Waterfall, and Hybrid methodologies;

Real-time visibility and reporting capabilities;

Enables cross-functional collaboration;

Centralized location for roadmaps, backlogs, and releases;

Optimizer for Jira to Cut the Clutter
Optimizer for Jira is an app designed to make Jira administration easier. It allows you to analyze, configure, monitor, clean up, and optimize multiple Jira instances conveniently. You can use this app to identify and remove unused or rarely used projects on the go.
The app can manage multiple objects at once, allowing you to edit, merge, or delete them as needed. In addition, you can also remove duplicate custom fields to optimize their usage and context, identify and delete inactive users, and prevent making breaking changes with dependency analysis.
There are also some advanced tools such as GraphQL editor, log viewer, customizable smart tables, and health checks that help you make informed decisions.
Features
Identify key areas for improvement with Health Checks;

Unique insights into the usage and configuration of objects with Smart Tables and Filters;

Edit, merge, or delete multiple objects at once;

Remove and optimize custom fields;

Identify and remove inactive users;

Understand dependencies between objects;
Backbone Issue Sync for Synchronization
Backbone Issue Sync is another excellent app for managing multiple Jiras. It allows you to synchronize your Jira projects across various departments and/or systems. You can use it to help your teams collaborate on Jira without borders by creating interrelated workflows for every department.
It can synchronize issues, fields, comments, and attachments across unlimited Jira projects, even behind strict firewalls. This functionality provides complete privacy and security for the synced data.
The Backbone Issue Sync app is suitable for enterprises with two or more departments working together. It supports Jira Work Management, Jira Service Management, and Jira Software across Data Center, Cloud, and Server installations. 
Features
Synchronize Jira projects across multiple systems or departments;

Align projects and create interrelated workflows;

Sync issues, comments, fields, and attachments;

Capability to select Jira issue type and map workflows;

Bidirectional or unidirectional syncing;

Synchronize Jira project versions;

Multiple sync options (HTTP(S), file, email);

Simple setup and configuration;

Easy troubleshooting;
Confluence for Team Collaboration
Collaboration in teams is extremely important because it allows them to share ideas, knowledge, and skills, which leads to better decision-making and problem-solving.
Therefore, it is important to use a tool that allows different teams to easily communicate with each other, especially if they are working remotely. It is also important to take security measures, such as using a reliable VPN service or firewall, to protect sensitive organizational data.
Confluence is one of the best apps that you can use to boost collaboration between your team members because it integrates with Jira seamlessly.
When integrated, Jira and Confluence work together to provide a complete picture of the project, from high-level planning and documentation to detailed task management and progress tracking.
Confluence is also highly customizable, with a wide range of templates and add-ons available, to meet your organization's unique needs. In addition, it also allows you to create and share documents, spreadsheets, diagrams, and other types of content, making it an excellent tool for sharing ideas and planning projects.
Features
Create and share documents and collaborate in real time;

Create knowledge bases and documentation;

Customizable with a wide range of templates and add-ons;

View and update Jira issues directly from Confluence;

Embed Jira reports and gadgets on Confluence pages;

Create polls and surveys for better decision-making;
Managing Multiple Jiras: Common Use Cases
The following are some common use cases explaining why you need to use and manage projects in multiple Jiras.
Managing cross-department projects in a large organization, using different tool sets;

Cooperation with customers using their own Jira environment;

Sharing teams across several projects, such as outsourcing;

Managing multiple remote teams working on different projects;

Mapping the internal development team environment with the external customer-facing Jira service desk for effective communication and collaboration;
Final Words
Managing projects across multiple Jiras can be complex and time-consuming. But there are various tools and practices that can help to streamline the process and make it more efficient and effective.
By keeping an overview of important items, avoiding skipping critical items, and maintaining focus while working from one central location, your teams can collaborate and work together better to achieve project goals.
We hope this guide has helped you understand how you can improve the process of managing projects in multiple Jiras.
Atlassian team

Stay on Top of the Latest IT Software Development Tips, Newest Offshore Trends, and Best Outsourcing Practices.
Related Posts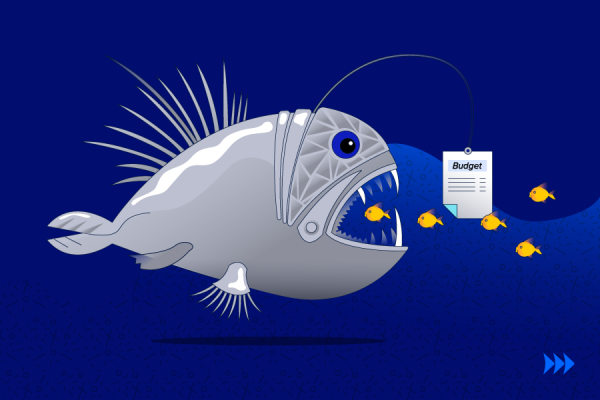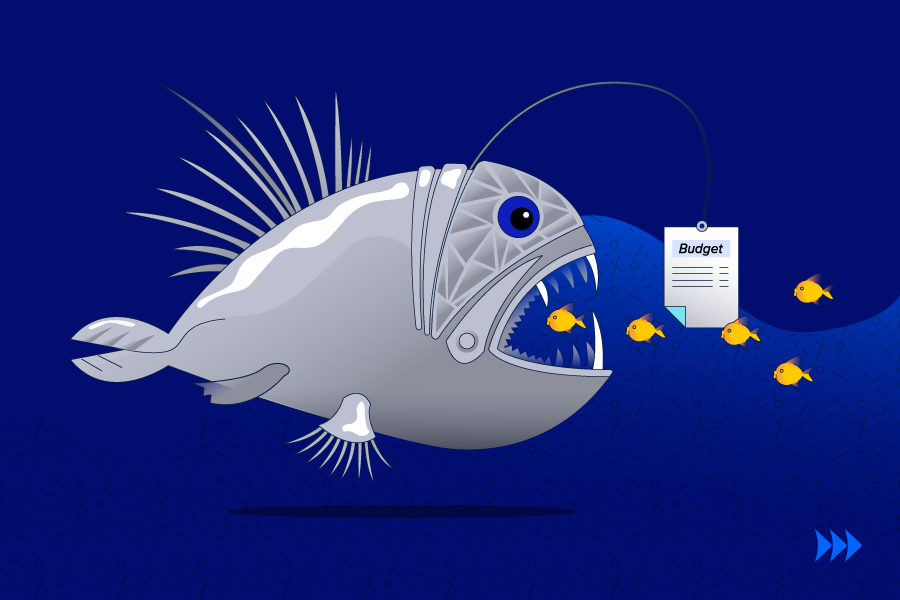 How to Control Your Project Budget?
US' 1977-1980 Secretary of State, Cyrus Vance, once said: "Any military project will take twice as long as planned, cost twice as much, and produce only half of what is wanted."
by Atlassian team
|
7 minutes to read