All Articles
Survey: Ukrainian IT Education
Posted 2015-11-19 10:11
5 minutes to read
Survey: Quality of IT-education in Ukrainian universities 2015. National Kharkiv University took 1st place among best Ukrainian Colleges for getting IT education.
Why do people say that today Ukraine is the best country for IT? Let's look over education figures in Ukraine and sort them out. According to annual statistics, Ukraine is bringing out more than 30 000 of IT experts who are considered the most professional globally. Today Ukraine takes a worthy place among countries for outsourcing IT services. An increasing number of independent educational initiatives appears every year. New institutions help students to make the right choice in a future career as well as make our country the best outsourcing center.
Thus, getting high quality IT education in Ukraine is one of the most meticulous questions today. What should a student choose: college or IT courses? What is the best city for studying, which university, faculty? These and many other questions come to those who just graduated a high school or those who decided to get a new career and go to IT. We have interviewed Kharkiv IT experts and asked few key questions regarding Ukrainian universities, received knowledge, advice for future students and what helps to become a successful developer.
Universities to graduate for software developers
So let's start! First, we would like to share the results about Ukrainian universities that have been graduated by interviewed people.
Universities of Respondents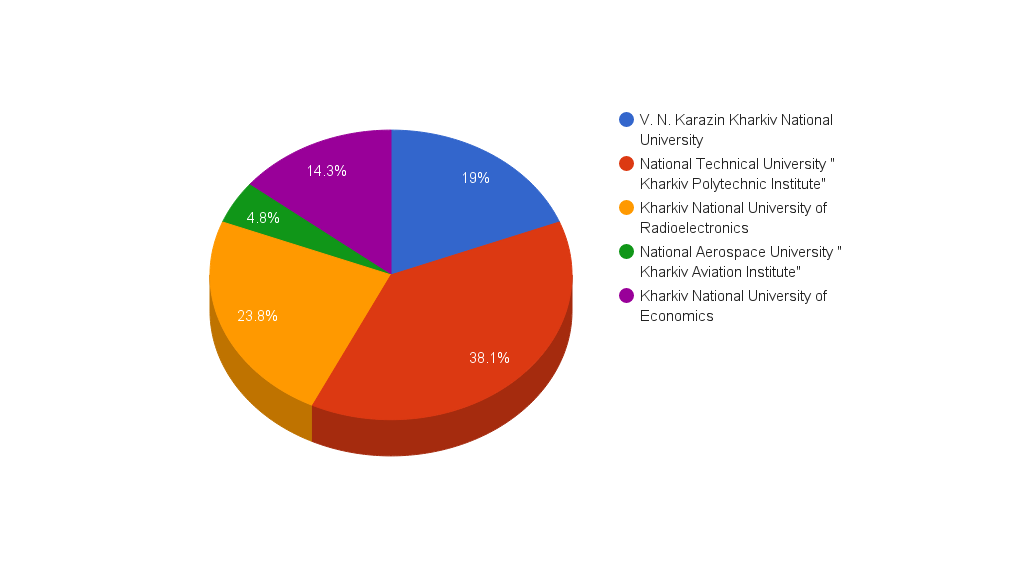 As we can see from the chart, the majority have graduated from National Technical University "Kharkiv Polytechnic Institute." This study shows the most popular departments in the "KhPI":
Artificial Intelligence Systems

Department of Computer Science and Management

Department of Engineering Physics

Electric power engineering department

Computer science and information technologies Department (Computer Science and Control).
The second largest group of IT experts graduated from the Kharkiv University of Radioelectronics with such leading faculties:
Faculty of Computer Engineering and Control (Information Technology Security)

Faculty of Computer Science

Faculty of Automa­tion and Computer Technologies.
Those who wants to succeed on the basis of programming at V. N. Karazin Kharkiv National University can definitely go to the Faculty of Mechanics and Mathematics. Also, there are people who graduated from the Faculty of Economic Informatics of the Kharkiv National University of Economics; Computer systems and Networks Department of National Aerospace University "Kharkiv Aviation Institute".
Experts' Opinion about Ukrainian IT education
Now we know where experts get their knowledge. Well, what is the best University according to the survey?
Kharkiv Universities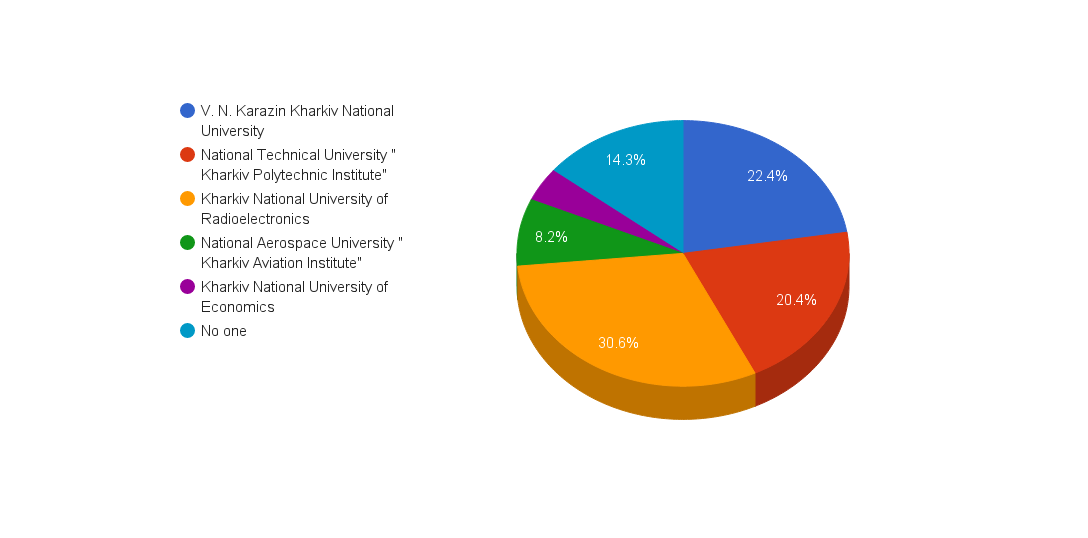 The first place got the University of Radioelectronics and, as we can see, it is the most popular among software developers. The second stage took V.N. Karazin University, and the third place – Kharkiv Polytechnic Institute. One more interesting fact is that 14,3 % of respondents think that there are no good universities in Kharkiv for growing programmers. Later we will throw the light on this case and tell you why they think so.
3 Top Ukrainian Сolleges
The next question was about 3 top Ukrainian colleges that prepare really cool and high-qualified developers. So, let's look at the diagram below and analyze if your expectations meet the received data:
Ukrainian Universities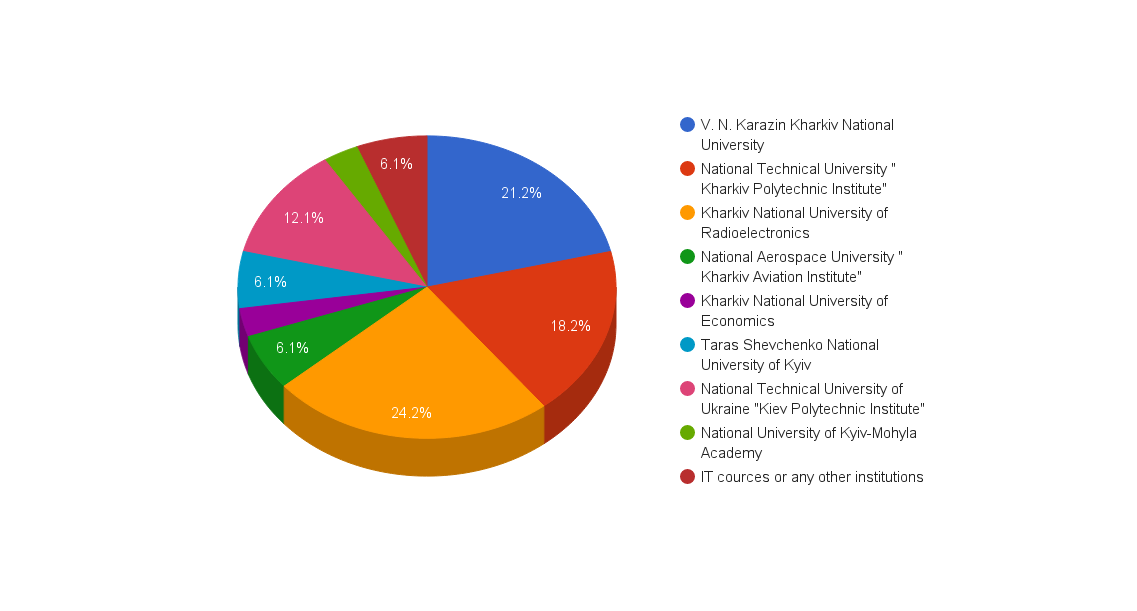 Here we see the same first three positions with the 1st place winner, the National University of Radioelectronics. Also, we find out one more large group of people, 6,1 %, that chooses IT courses or any other institutions that help obtaining required IT skills.
IT experts say that not only technical universities in Ukraine may prepare good developers. The graduates of Universities with humanitarian bias may become leading IT experts deliberately.
Programming languages at the Ukrainian Universities
Well, let's take a look at what languages of computer programming they study at the universities nowadays.
Programming languages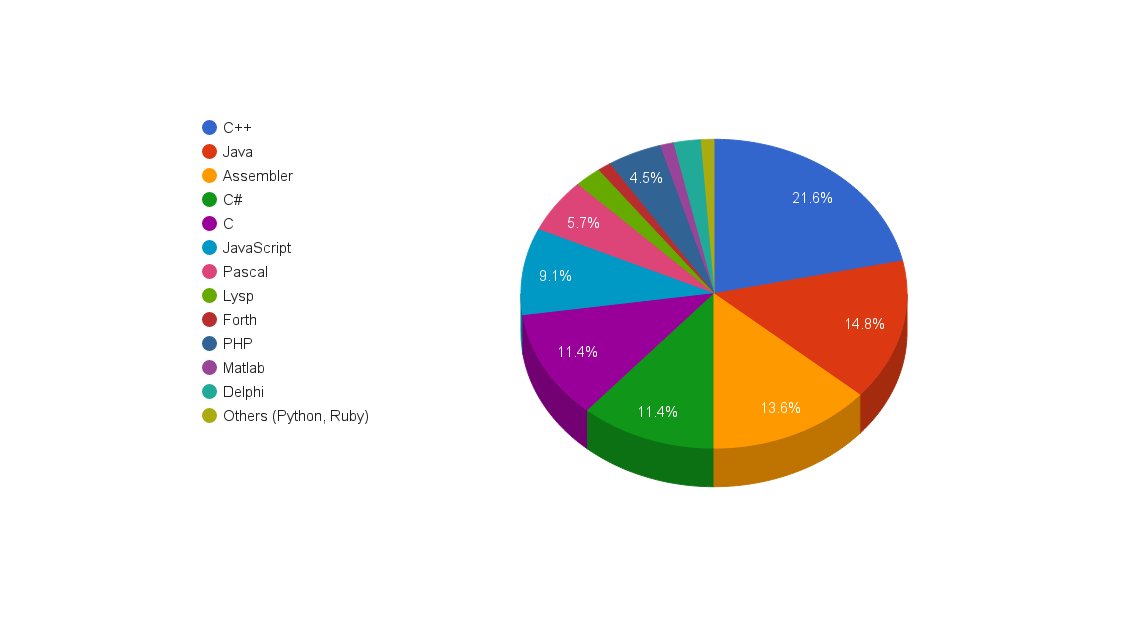 Conclusion
"A positive aspect of Ukrainian Education is diversity" – said the V.N. Karazin University graduate – " I've studied a lot of interesting theoretical information in different industries as information security, design patterns, databases, artificial intelligence, and much more. The negative aspect is a lack of necessary practical knowledge as projects/tickets management systems, repositories, and other useful development tools."
Graduates of V.N. Karazin University like strict processes of software development: waterfall, spiral, and so on. Students widen knowledge horizons during their college years and believe mathematics department graduates aren't been trapped within one programming paradigm. It would be useful to add modern technologies and processes to the first 2 years of educational program, according to students' opinions.
What we would like to emphasize on the educational program of the National Technical University, is the fact that all studied languages and technologies have been focused on desktop applications. There was not enough information that could fully cover the web development. As we know, nowadays mobile and web applications drive desktop applications out of the market. Well, let's catch up with the trends in Ukrainian education programs!
Thus, we can positively announce that the education system in Ukraine provides students with a good theoretical base that can be used in practice. Everything depends on your desire and as one of the respondents says:
"Self-development is a key factor for a successful IT expert."
In the second part of our article, we are going to make a selection of courses, colleges & IT schools that will give you the best practical educational background.
Stay on Top of the Latest IT Software Development Tips, Newest Offshore Trends, and Best Outsourcing Practices.