Laziness is the engine of progress. Linking Jira tracking system with Streak CRM
How often have you heard that Necessity is the mother of invention?
Well, the Rozdoum team decided to confirm this statement once again. Today we are proud to present our new product: JIRA Streak Connector.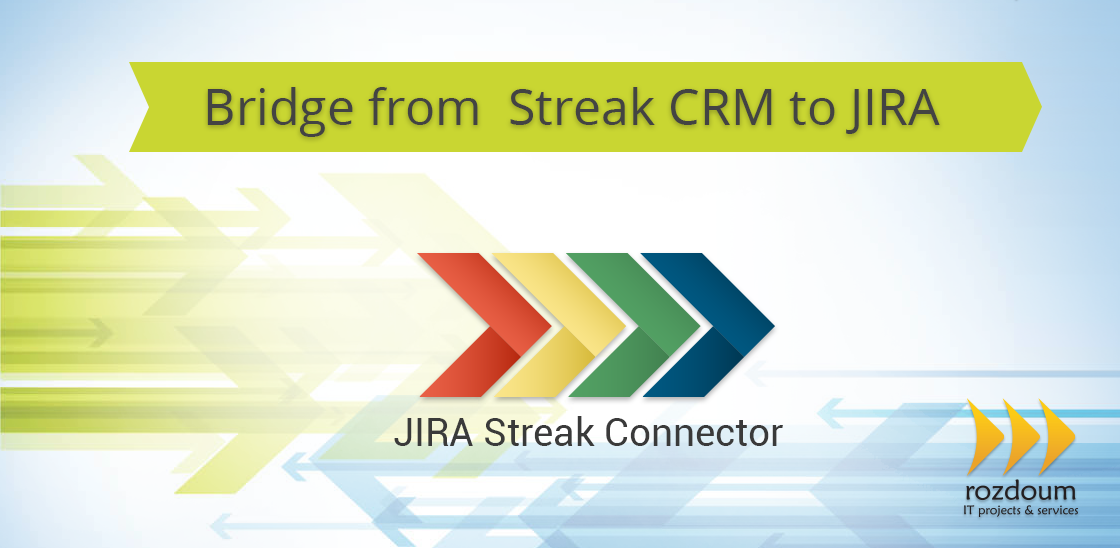 Just imagine a situation. You are a Sales Manager who is working with a Client via an email correspondence. You have got an email with attached specification from the potential client. What do you need to do? You have to change your comfortable working environment, open your JIRA Dashboard, create a ticket, write a title, create a description, send it to a Business Analytic or to a Team Lead, download and attach documents from your letter, saving them preliminarily to a folder on your computer.
We know developers love JIRA. And developers like to spend time doing what they love: writing code! Just coding without sending emails, checking new specification details and so on. We know that they all use JIRA to track their work and it's just perfect for them.
And we have the same situation with sales managers. Sales often involve challenging deadlines from the customer's side. They are working with a lot of different types of requests every day. And all these goals are in their comfortable working environment as well. It's just Email boxes.
So, how can they all easily manage project communication?
Our JSC plugin is an ideal solution to simplify and to speed up communication between the following chain:
Customer – Sales department – Developer's Team
JIRA Streak Connector (JSC) is a plugin that saves your time, accelerates communication and simplifies the process when you work on the same project in different environments. Now you don't need to switch from Streak to JIRA in order to create a new ticket. With our new plugin, you can transfer information from your mailbox to the project management tool just with one simple command. No need to spend time on such boring and time-consuming things – take it easy and stay lazy with us 🙂 JSC will do everything for you!
In fact, the Necessity of this instrument came to us after long-term communication between customers, sales department and Dev teams. Testing has shown that we found a great solution to simplify and accelerate the cooperation process among all component parts of a single whole.
JSC specific use cases will give you a better understanding of plugin's possibilities. You can download the JSC plugin today and tomorrow you will see how useful it is and how much free time you have with it!
Moreover, our creative team members already have several ideas how to make it even more useful. We plan to have an updated version with additional features, such as work with customizable fields and synchronized attachments.
However, if you and your team use it, like it and also have something to add to its functionality, we are open for your comments, feedback, and requests. Let's make our lives better together!
Please don't hesitate to contact us and ask anything you may need to know about JIRA Streak Connector.
Email: jsc@rozdoum.com
Skype: rozdoum.com
Phone: +1 315 707 7517
---
| | |
| --- | --- |
| Author: Sales Team at Rozdoum | |
Posted 2015-05-07 03:05 in Atlassian news Company News Innovative topics