Meet Up With Rozdoum at Atlassian Summit Europe 2017
Being the Innovator Sponsor of the Summit, Rozdoum has chosen the booth at Expo Hall. We invite you to visit us. Let us arrange the meeting to discuss our possible partnership and find common interest for both sides.
As you may notice from our previous posts, we are very enthusiastic about our participation in Atlassian Summit and AtlasCamp in Barcelona. Rozdoum is an Innovator Sponsor of the event. Having booth in the Expo Hall Area is one of the advantages that attracts us in this status. We believe it is a great opportunity to meet people.
This year visitors could have the unique broad experience: Summit, Exhibition, and Camp at one time and in one place. Summit sessions with its concentrated and focused approach bring the inspired silence of discovery. You can share a joyful mood of Partner's Day and join the party of experts from all around the world. Dedicated discussions of the AtlasCamp enhance your delight of comprehension. The busy and noisy atmosphere of the Expo Hall allows you to dip into the Atlassian world. Summit is the occasion to help you staying up-to-date about the Atlassian product line and be aware of all trends and innovations.
We, at Rozdoum, encourage you to feel the atmosphere yourself and expand your partnership network. We will be glad to meet up your team & you at our booth during the event and discuss business opportunities for partnership.
Our booth is situated in the Innovator Sponsor Booth Area on the way to the food court: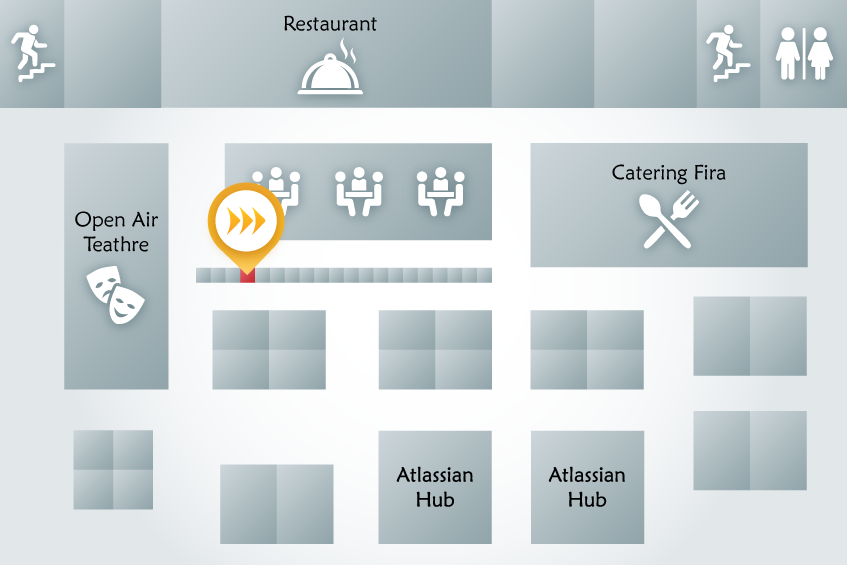 Anyway, you will not miss us as we definitely are going to be the most orange people of Atlassian Summit Europe 2017. Schedule a meeting with our CEO, Andrey Dekhtyar, right now.
---
| | |
| --- | --- |
| Author: Atlassian Team at Rozdoum | |
Posted 2017-03-27 09:03 in Atlassian news Company News Teamstory