New Award Gained – Rozdoum is One of Top Ten Enterprise Development Firms
Enterprise applications are crucial for business processes. Rozdoum's passion for delivering the optional performance to our customers' projects has been noticed and evaluated lately. We have got the reward for our efforts in the Christmas times from Top App Creators, and have been ranked in the list of Top 10 Enterprise Application Development Agencies.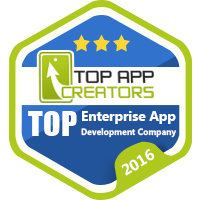 At the very end of the year, right in the middle of Christmas time preparations, when we still are working as hard as Santa's elves to deliver our customers' projects in time, our efforts had been rewarded with a deserved price. Rozdoum has gained a new award — this time from Top App Creators. Our software development house has been ranked as one of Top 10 Enterprise Application Development Agencies in December 2016.
Apps are driving enterprises, they help to automate thousands of processes, made them efficient and faultless. Enterprise applications are intended to solve specific tasks. Reliability and security requirements are often high. Rozdoum has over 12 years of experience in the field. We have skills and knowledge to build the business applications. We create software that is worthy at every level, whether it is an Atlassian plugin or the mobile SAP application for an Army, and up to an event management platform, and Email and marketing automation.
Top App Creator (TAC) is the listing service to make your choice of a developing partner easier. This source verifies development service providers via software they deliver, their customers reviews, and an internal evaluation process.
We are proud to be in the TAC's list. This award crowned this year, bringing more recognition to Rozdoum and highlighting our strengths. Previously our work was evaluated by Clutch as a top QA company, and our reliability was verified by Extract.
Thank you, Santa! Ho-ho-ho! All greetings to Rozdoumites and success to your business!
---
| | |
| --- | --- |
| Author: Sales Team at Rozdoum | |
Posted 2017-01-04 03:01 in Company News Teamstory