Who gained a Reliable Company reputation from Extract?
How to evaluate a company reliability? Extract definitely knows: Rozdoum now possesses a Reliable Company mark from Extract analysts.
Autumn is, no doubt, a festive time, especially this year for Rozdoum. Not so long ago we celebrated our 12th anniversary and Clutch evaluated us for our dependable QA testing results, as we gained another high rate. Extract has verified Rozdoum as a reliable company. Yoohoo and Hurray!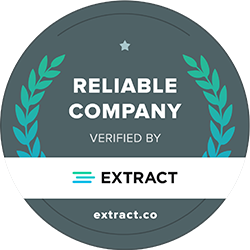 Our company cares of dependability and quality of delivered result, deeply involves to our customers' projects goals, that is why it is always pleasant when your efforts were noticed and appreciated particularly by other professionals.
Extract is known for its assessments of development companies using several key performance indexes and clear ranks of their focuses. The accuracy of analysis by Extract, their tough attitude to customer reviews combined with their open-mindedness turn the resource into the valuable source of information for potential customers.
Based on analysis of our trustworthy, market presence, technical expertise, quality and skills, Rozdoum total score at Extract reached 72.85 points and we are not going to stop here. Our expertise continuously grows, our experts' knowledge improve, we do our best to deliver advantageous software and keep our customers satisfied. Enjoy Rozdoum's Reliable company mark and share your ideas with our development team to embody them into new outstanding products.
Read more:
---
| | |
| --- | --- |
| Author: Sales Team at Rozdoum | |
Posted 2016-09-20 02:09 in Company News Fun Teamstory