Clutch Reported Rozdoum as One of Top Web and Software Developers in Ukraine
Rozdoum was honored by Clutch for our attitude to web and software development. Our company was titled in Leader Matrix of Ukrainian web and software developers as a top contender. We celebrate this award as the next accomplishment in the delivering software that brings values. Share our joy.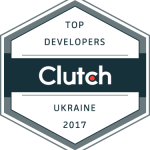 Rozdoum entered Clutch's Leader Matrix of Ukrainian web and software developers as a top contender. In this report, analysts focused on companies' ability to develop satisfying web product and software for their customers. Reliability and high quality of delivered solutions are the core factors in the Clutch's evaluation process.
Rozdoum's index of the ability to deliver, comprising our experience, market presence, and our customers' satisfaction, obtained the value of 25.1, with our focus on web and software development reached 25% and 30% in order.
Ukrainian developers were recognized as "rapidly setting a new standard with their quality and productivity" by Christian Louzan, Business Analyst at Clutch. Here at Rozdoum, we deliver the products that bring values. Our customers' satisfaction is our obsession. The reliability and quality of our solutions are proven by delivered software and a number of awards.
Rozdoum's business lifestyle had been evaluated by Extract, Top App Creators and Clutch earlier. Rozdoum has gained several prestigious names and titles as a reliable partner, a top QA provider and a top enterprise software developer.
We are proud that our intents and hard work were noticed and appreciated. It is an honor for Rozdoum that encourages our team to further improvements and helps us to develop software that really grows the business.
---
| | |
| --- | --- |
| Author: Sales Team at Rozdoum | |
Posted 2017-02-07 11:02 in Company News Teamstory