There are a few options within the same cloud migration service, and they consist of pretty similar steps. During migration, we encourage customers to participate from time to time as it sometimes helps to better optimize processes on the go.
Cloud migration steps are as follows:
Assessment and preparation for the migration

analyzing both instance and project setup to detect conflicts
suggesting solutions and discussing them with the customer

Investigating ways of third-party data migration (data of add-ons)
Preparing a UAT plan
Performing test migration and testing the results
Performing production migration
Among the most effective approaches to cloud migration are cloud to cloud, cloud to server, and cloud to data center. To better understand which kind of migration you might need, here are specifics for each case.
The three approaches to merge multiple instances of Jira cloud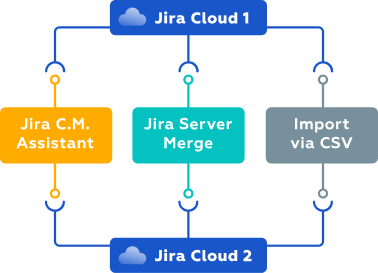 In case you need to combine data from several Atlassian cloud instances, cloud merge is a service for you. No matter what your working processes were before, how different those instances are, or which changes you want to implement, we can help you define a new structure and workflow for your team before the merge. 
If you decided to take over control of Atlassian products, please make sure you read about Atlassian's plans for shutting down the server products' support by February 2024. However, in case you have to follow specific security requirements set by financial, medical, and other industries, you might need to move your cloud instance data to the server. Besides the specified steps, it is essential to see whether all cloud plugins have server versions and if they don't, find replacements. In case there are no ready-made plugins for the server product you are planning to use, Rozdoum can take care of custom plugin development too. 
Migrating from one Atlassian cloud product to another is not a popular case. However, if you're not in control of a cloud instance you use or divide your teams into several independent parts, you might need to change your Atlassian cloud instance and perform database migrations.
If you're growing fast or have recently become a part of an enterprise, Data Center by Atlassian is a good solution. Data Center ensures security and compliance of the company's data, addresses scalability issues, and allows for advanced data control. It combines several products and provides an easier way to manage the whole infrastructure. We can help you define which products to use, move all the data from your current instances, or introduce you to new products that you might have decided to use in DC.
Servers migration of Atlassian products was one of the first services we've established. What does it take?
checking if all product versions are up to date
following all the steps described in the cloud-to-cloud migration section, but using the server version of products you have.
 
However, with the server products, the list of cases for data migration services is a bit wider.
Here, the case might be similar to that of cloud merge. The only difference is that your data is physically located on different servers. We will still need to set up a new instance before backing up the data and importing it from those instances that are being merged.
If you haven't purchased new Atlassian product versions for a while and need to upgrade the older version, you might face a few challenges when making changes. Our team can help you define the differences, check plugin compatibility with the latest product version you have, and execute data migration as well.
Upgrading Jira 6 to 8 is not directly possible. You need to do iterations step by step. The upgrade path will look like this: Jira and Confluence Pre-upgrade Planning Template
There are cases when you need to migrate or upgrade Atlassian products on a different server. The most common reason for this is the growing issues with your current server. It's essential to set up a new instance, back up the existing database and home directory, move data to the newly installed instance and re-apply custom modifications. To handle server migration accurately, you might need external help.
With Atlassian planning to support those who'd like to switch to cloud versions, this might be the most popular service for upcoming years. Considering the interface differences and plugin selection, server-to-cloud migration requires more time and effort to prepare for. For example, the migration from Server to Cloud of the following Atlassian tools: Jira Software, Jira Service Management, Confluence can be accompanied by migration of a large number of Apps as Adaptavist Script Runner for JIRA, Checklist, Advanced Roadmaps for Jira  (Advanced Roadmaps plans, Advanced Roadmaps Team Management), Jira Misc Custom Fields, Jira User Export, Nextup JIRA Integration+, ProForma: Forms and Fields for JIRA, Insight, Insight Discovery, Insight SCCM Integration, JIRA Custom Fields,  JIRA Misc Workflow Extensions and much more. 
Here is the case study of the Server to Cloud Migration of Marketplace Apps: Case Study_ Server to Cloud Migration of Marketplace Apps.
The apps in the lists have necessary references to migrate apps from Server to Cloud: how-tos, migration guides, documentation links.
Rozdoum can assist you in this or guide you through the process.